Honestly, my love for shoes is undeniably excessive. I usually delight more in comfortable shoe-wear such as loafers, Oxfords, and boat shoes. If you pay attention to most of my outfits, I'm usually wearing a pair of either shoe styles previously listed. As far as heels go, I love statement-makers. Heels that are bright in color or bold in structure appeal to me the most. As much as I love shoes, you would think I had racks on racks on racks, huh? Sike, nah! I always seem to spend money on clothes before I do on shoes. You know the fault in that? I always end up looking for shoes that go with this outfit and that outfit. Ah. I'm pretty sure I mentioned this before: I want to start collecting heels starting this summer. I already started with buying a much needed pair of nude wedges. You'll see them eventually. Yes. Also, by the end of the summer, I hope to have acquired a pair of white Jordan Cement 3s. *squeezes eyes shot & crosses fingers*
As usual, I searched the good ol' World Wide Web to further get my point across. Y'know? I want to begin with my current infatuation: the much talked about
Hermes
x
Vans
collaboration designed by Robert Verdi:
I can honestly and boldly state I would desire a pair of each. So beautiful.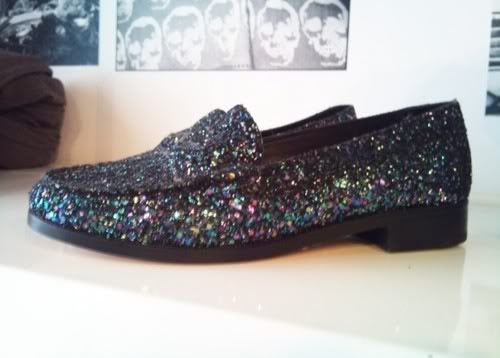 My idea of a statement shoe: let's take the pair of black-glittery-loafers: imagine it paired with, say, a black-sheer-button-down shirt with black trousers or harem pants? As opposed to wearing black wedges which is like, the ultimate trend *gags*
Then there's heels:
Mainstream-wise, Jeffrey Campbell is infamous for making statement shoes and I have much respect for him. The "Litas" especially. Ah! You can wear a black-trash-bag and throw on the "Litas" and still look amazing.
My heart desires the pair in the center.
[=♥