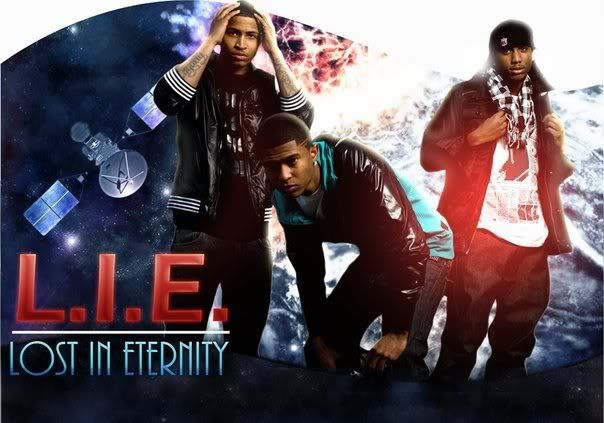 Prior to receiving an email from Mercedes, President of
Lipstick & Labels
, I was already aware of a R&B boy group known as
L.I.E.
all thanks to the power of twitter, yet again (but shhh I didn't make her aware of this lol) Secretly, I'm honored to be doing this feature for them. Always ready and willing to spread and support good music seeing as it is in scarcity this day in age. Without much words, here are the contents of the email to put y'all on as to what/who L.I.E. are and what they stand for:
L.I.E. (Lost In Eternity) is an R&B trio out of New York who bring a fresh feeling and balance to today's urban music scene. Escaping the traditional R&B vibe, L.I.E. fuses pop, hip hop, rock, and R&B seamlessly into an incredible tapestry of sound that evokes excitement and stirs emotions.


Justin aka Leaks, Dennis, and DeShaun embody a heartfelt intensity and
passion for the pure art of entertainment which is reflected in their
music and performances. Sophisticated and polished, with a fly young swagger,L.I.E. sets a new bar for the male trios genre and are poised to change the game. An unmatched sound, look and feel are the defining elements which set L.I.E. apart from any other group populating today's musical landscape.
Now this is what I listened to...this is the song that sold me on L.I.E's talent:
LMAO...then I watched this, I love the realness of their characters in this, the determination, AND they sang Dru Hill. Oh, PLUS it helps that they are all good looking young men:
By now, I'm hoping I have you all SOLD on L.I.E. and I bet you're craving to know MORE? if that's the case, here are some links that'll HELP:
POWER 105.1 INTERVIEW:
150.1 interview
Twitter:
@Leaks4LIE
@DennisK4LIE
@Deshaun4LIE
YouTube:
LIE3rdLane
Support
L.I.E
!!!
Support
GOOD
music. That's
the
motto.
They're AMAZING and I hope to see 'em RISE ...& SHINE like the stars they deserve to be.
Spread
THE
word.
[=♥